Montreal's parks and gardens offer clean and secure havens for both visitors and tourists. The city has always upheld its "green" identity, resulting in the abundance of expansive public spaces, encompassing large parks and beautiful gardens. 
Lafontaine Park, Montreal's first major park, lies at the heart of the city. Joining this green network are other notable locations like the botanical garden and Jean Drapeau Park. These substantial parks are complemented by numerous smaller community parks throughout the city.
Here, we present a compilation of Montreal's finest public parks and gardens that provide everyone an escape from the bustling urban rhythm of Montreal.
Parc Jean-Drapeau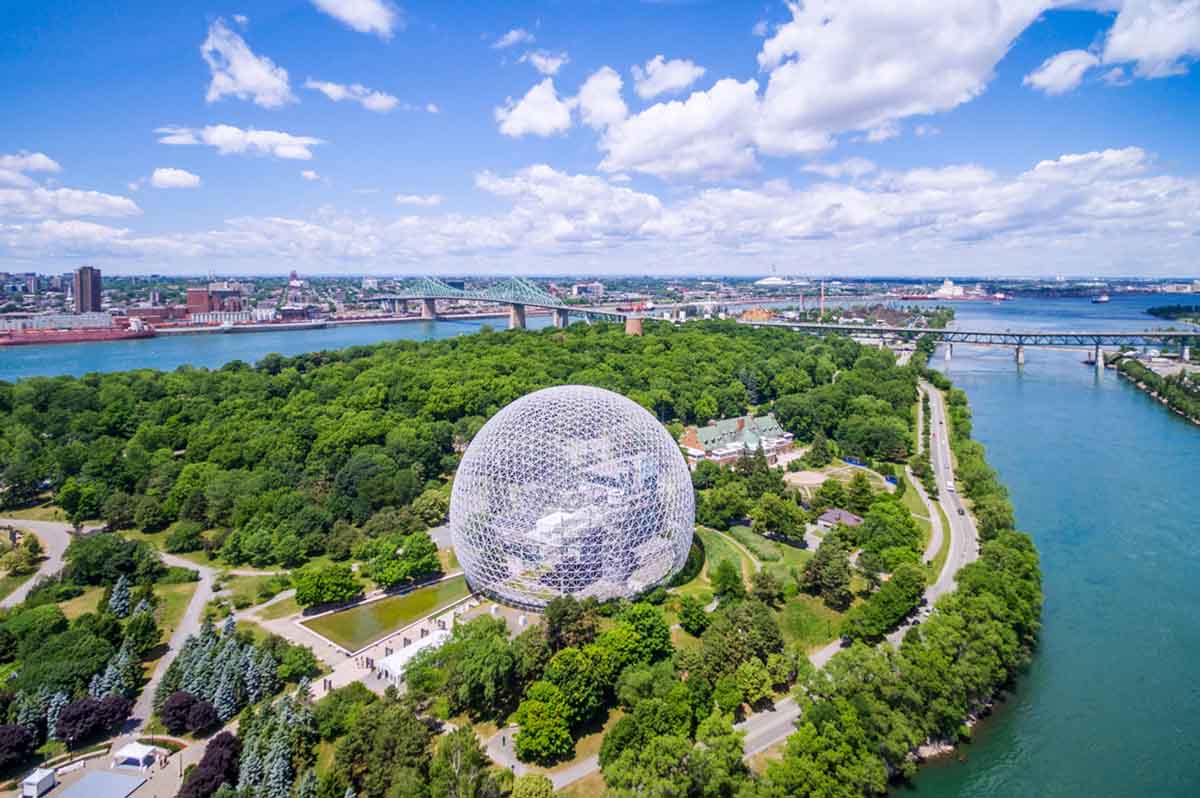 Montreal's Jean-Drapeau Park is an expansive natural haven. Formerly called Parc des Îles, it encompasses both Sainte-Hélène Island (Île-Sainte-Hélène) and the man-made Notre-Dame Island (Île-Notre-Dame), renowned for hosting Expo '67. 
These islands are beloved for their extensive green areas, serving as prime venues for a variety of cultural and athletic pursuits. The park regularly holds diverse events and houses a range of attractions, making it one of Montreal's largest and most vibrant outdoor spaces.
Parc Lafontaine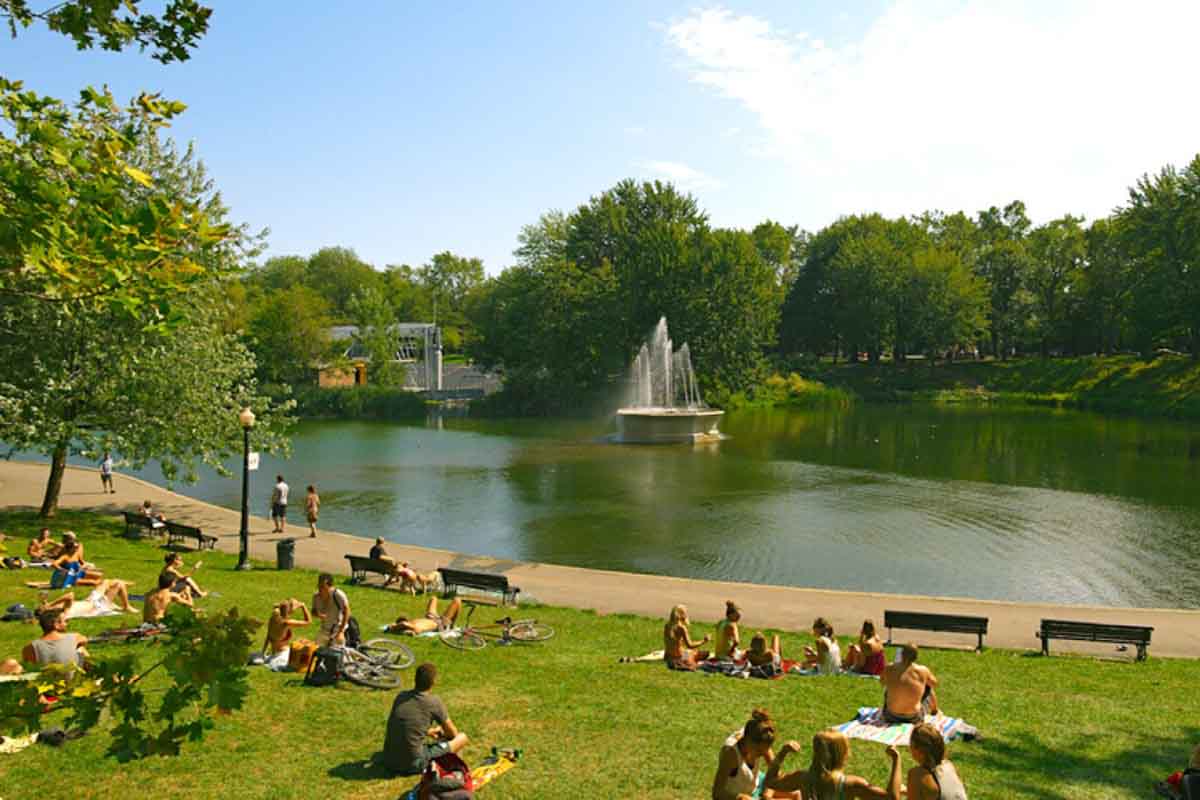 Lafontaine Park stretches across 40 hectares with interconnected ponds featuring a lively fountain and cascading waterfalls. It's a haven for outdoor enthusiasts, offering wading pools, cycling routes, playgrounds, picnic spots, a dedicated area for dogs, and even fields for soccer and baseball. 
The vast green spaces make it a perfect setting for picnics, and you'll frequently encounter joggers and cyclists along the pathways. This extensive park seamlessly blends with the neighboring districts, offering kilometers of interconnected bike paths that weave through the surroundings.
Parc Olympique de Montréal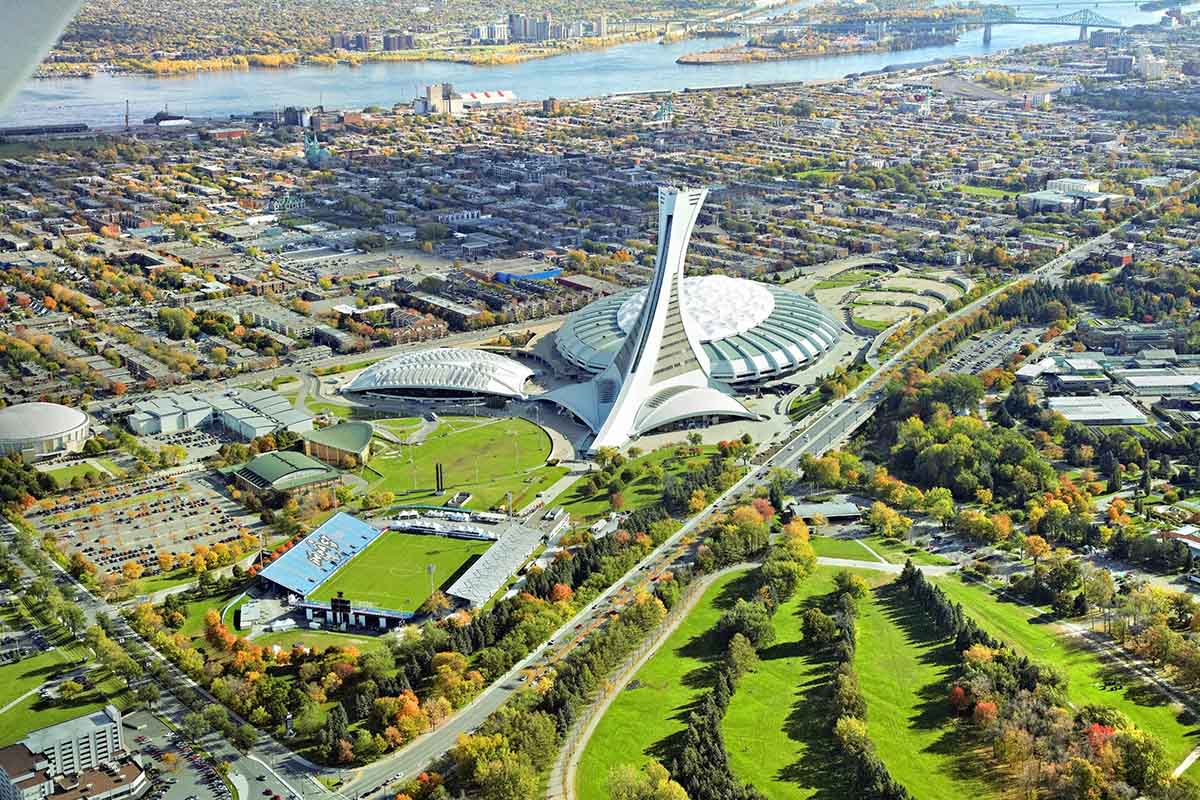 Montreal's Olympic Park, also known as Parc Olympique, is a sprawling park initially built for the 1976 Olympic Games. Among its prominent features is the iconic Olympic Stadium, which is a centerpiece that draws visitors from far and wide.
Nestled in the Hochelaga-Maisonneuve district, the Olympic Park enjoys a convenient proximity to downtown Montreal. It comprises a collection of structures envisioned by renowned French architect Roger Taillibert such as the Montreal Biodome, Montreal Insectarium, and Olympic Stadium, to name a few.
Jardin Botanique de Montréal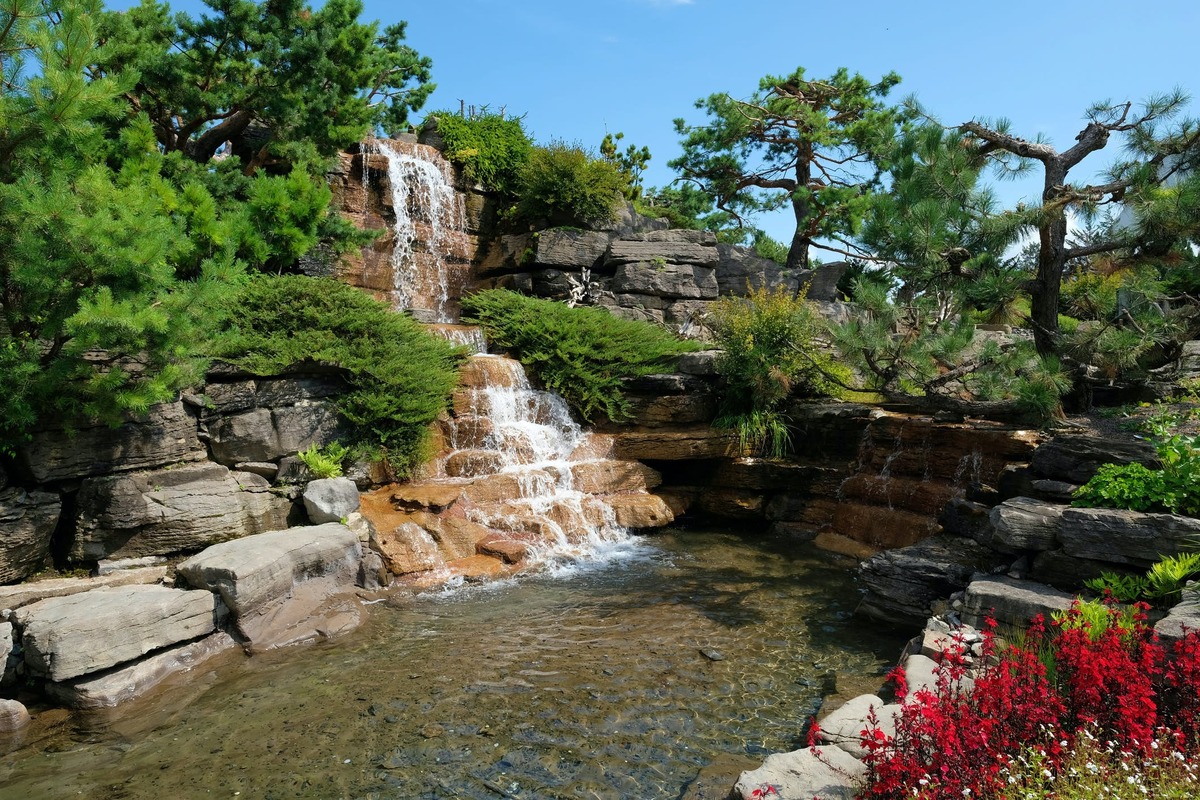 The Montreal Botanical Garden, known as Jardin Botanique de Montréal, stands as a grand representation of global habitats and cultures. It's renowned as one of the world's largest and most breathtaking botanical gardens.
Encompassing an astounding array of over 22,000 plant species, the garden is home to ten exhibition greenhouses, around thirty thematic gardens, and a committed team of researchers and activity organizers. The Montreal Botanical Garden showcases flora from every corner of the globe, making it a captivating year-round destination, even during the winter months.
Mont Royal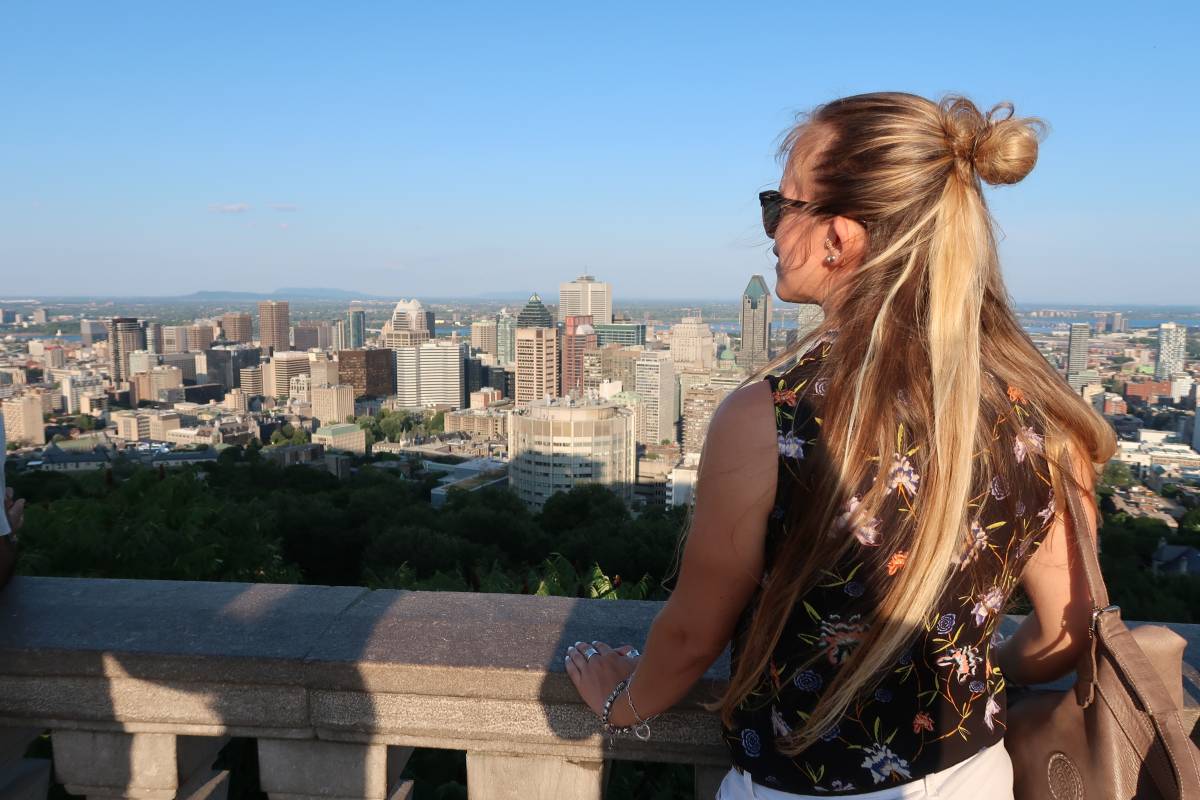 Mount Royal, or Mont-Royal in French, graces Montreal's landscape as a substantial hill situated right in the heart of the city. Soaring to a height of 234 meters, it proudly claims the title of Montreal's highest point. 
Among the locals, it's fondly referred to as "The Mountain." Interestingly, Montreal derives its name from this prominent 761-foot hill.
The hill is also home to the renowned Mount-Royal Park, or Parc du Mont-Royal, which stands as one of the city's expansive green oases. Ascending to the peak of Mount Royal rewards you with breathtaking vistas of downtown Montreal and its picturesque surroundings. This elevated vantage point offers a truly impressive perspective on the city's skyline and beyond.
Snow Village Canada
Village des Neiges, also known as Snow Village Canada, proudly stands as North America's inaugural snow village. The concept of a Snow Village, hailing from Finland and having gained popularity in Europe for over a decade, has found its North American home in Montreal. 
A visit to Montreal's Village des Neiges offers an utterly remarkable and surreal encounter.
Nestled within the heart of Parc Jean-Drapeau on Île Sainte-Hélène, this one-of-a-kind attraction presents an astonishing snow village. This enchanting space is bathed in natural daylight during the daytime, while the nights come alive with captivating architectural light effects. It's an experience that is nothing short of extraordinary.
Île Notre-Dame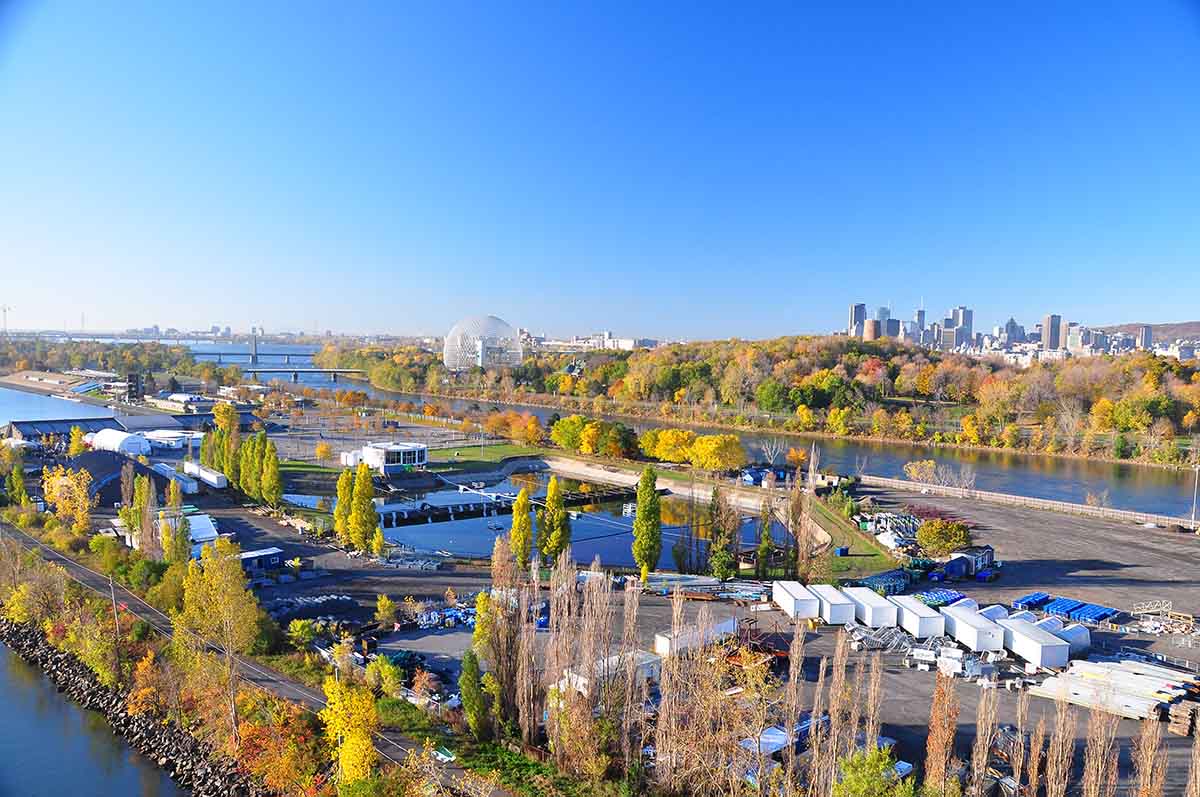 Notre-Dame Island (Île Notre-Dame) in Montreal is a remarkable man-made creation that emerged from the utilization of 15 million tons of excavated rock during the construction of Montreal's Metro system in 1965. This ingeniously crafted island was unveiled just in time for Expo '67, a significant event in Montreal's history.
Situated in the Saint Lawrence River, Notre-Dame Island lies to the immediate east of Sainte-Hélène Island and to the west of the Saint Lawrence Seaway. It forms an integral part of Montreal's Jean-Drapeau Park, sharing this splendid space with Saint Helen's Island. The island's origin story and strategic location make it a unique and compelling piece of Montreal's landscape.
Île Sainte-Hélène
Saint Helen's Island in Montreal graces the Saint Lawrence River as a serene island park. It's actually composed of two petite islands: St. Helene's Island and Round Island. This island bears the name of Samuel de Champlain's wife which adds a touch of history and charm to its character.
Encompassed with Montreal's Jean-Drapeau Park, Saint Helen's Island shares this picturesque setting with Notre Dame Island. This tranquil haven nestled in the river's embrace offers a unique blend of natural beauty and historical significance, making it a cherished part of Montreal's landscape.